Pet Insurance - To Buy or Not to Buy?
Where do you lie on the question of pet medical insurance?
We all know that value of medical travel insurance (as well as other insurance) for our clients as well as ourselves. I've certainly used my medical travel insurance before, and it saved me thousands in medical costs in the US. I'm sure we all have great personal stories about the value of insurance, and horror stories about those who don't purchase insurance for peace-of-mind.
For many of us, pets are such an important part of our families, and we'd do anything to keep them safe, healthy and happy. We had pet medical insurance for our previous dog, Dixie. About a month after we adopted her (and purchased insurance) we found a cancerous lump on her back. The insurance more than paid for itself while we had her. So of course, when we adopted Ralphie, we again purchased pet insurance.
Ralphie has severe separation anxiety, and gets very excited when she sees us or her "Grandma" and "Grandpa". Last month, when arriving at Grandma and Grandpa's place, she got excited and jumped off the back of the sofa. While she had done this a hundred times before, this time she let out a yelp, and started limping. We determined pretty quickly that it wasn't broken and hoped it was just a sprain that would heal. After a few weeks, it didn't look like it was healing, as she was still getting around (pretty well I might add) on 3 legs. We took her to our vet, and X-rays determined that she tore/broke a ligament in her upper back left leg. It is the equivalent of our ACL injury.
(L) Ralphie in the "recovery room" after surgery
(R) recovering Ralphie not impressed at the first season's snow
Well, she just had surgery to repair the torn ligament and is starting her ten week recovery. She is doing well, after a few rough nights Thank goodness for some good drugs. Luckily we have a fantastic vet who keeps in touch with us on her care around the clock. Also, we have received the first check from the pet insurance company to start covering her treatments and surgery costs. I'm VERY impressed, so I'll give a big compliment to Trupanion for helping us to take care of our little Ralphie!
Happy selling!
Dave
Honua Kai - The Perfect Family Resort!
"For this trip my wife and I wanted to plan a big family vacation. We were traveling with our two sons, their partners, and our two sweet granddaughters. We have always stayed in the Wailea area when in Maui, and were curious about what it would be like to stay in west Maui.

Honua Kai Resort & Spa surpassed all of our expectations! There were activities for everyone with the waterslide hitting a home run for the kids. Our morning walks on the never ending Ka'anapali Beach boardwalk were a great way to start our day.

We were surprised to discover that we didn't have to leave the resort to enjoy activities such as snorkelling, boogie boarding, stand-up paddle boarding and even surfing when conditions permitted.

The large three bedroom three bathroom condo was a great environment to enjoy each others company and wind down after a busy day at the many pools and hot tubs located within the property. Each couple had our own spacious bathroom and space for some privacy in their bedrooms. Four big screen TV's in the suite allowed our family members with varied tastes, to relax with their favourite shows as we wound down in the evening. Each day we had a couple take their turn making dinner for the family, so that even though we were in resort mode, we didn't have daily large restaurant bills.
The Honua Kai checks every box on our list. The biggest testimonial to a resort's success is its return cliental, and we will most definitely be back!"

Kelly Marsh & Family, Kitimat, BC, Canada
Hilton Puerto Vallarta - Wedding Package
Did you know that the Hilton Puerto Vallarta has an amazing complimentary "Joy Package" for destination weddings or vow renewal ceremonies. The regular package price is over $1100 USD but is available to wedding parties reserving 5 rooms for a minimum of 3 nights.
To see the Hilton Puerto Vallarta wedding package HERE.
El Cid loves to pamper our Travel Profressionals! Don't forget to sign up now for the generous El Cid Rewards program for our valued travel agents. You will then be able to enter your El Cid bookings and get a generous number of points to redeem for a variety of fabulous products in the online catalog!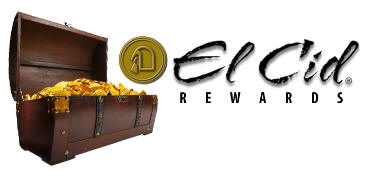 Your tour operator as well as your direct bookings apply for your El Cid Rewards points. You can purchase online or get gift certificates for hundreds of participating companies. We understand that our business supports our success and we want to thank you in a big way for booking our hotels in Mazatlán, Riviera Maya and Cozumel.
Click HERE to view or download this great guide to travel in Mazatlan.
Webinars - Hilton Puerto Vallarta
This month, we have the following Webinars scheduled for the
Hilton Puerto Vallarta
. All webinars will be 30 minutes
. We will also include information on the Krystal properties in Puerto Vallarta, Ixtapa and Acapulco. Click on the links below to register.for the Hilton Puerto Vallarta webinar.
Thursday, December 11, 10 am PT (noon CT)
Friday, December 12, 10 am PT (noon CT)

Webinars - Honua Kai Reosrt & Spa (Maui)
Honua Kai is one of the top rated luxury condo resorts in Maui, featuring spacious studio, one, two and three bedroom
suites. The property is located on the world-famous
Kaanapali North Beach
. Each suite includes a fully equipped high-end kitchen, in-suite washer & dryer, a bathroom for each bedroom and more. All webinars will be 30 minutes.
Thursday, December 11, 9 am PT (11 am CT)
Friday, December 12, 9 am PT (11 am CT)
Name the great adults-only, roof-top lounge at the Hilton Puerto Vallarta. It features a sushi chef, open bar and amazing views! Click here to enter your answer.

Good luck!!!
Winner from last month
Congratulations to Mona Thomson, of TierOne Travel, in Calgary for winning last month's Photo Contest and a gift certificate.
We are happy to help!
Dave Emery,

David Emery Travel Marketing (DETM)
About Us
We are a Vancouver-area based company providing quality travel industry representation in Canada since 2009.
Dave Emery
Sandy Ruel
Social Media Expert
What do 100 million internet users do each day? Got you stumped? They're watching videos! Learn video marketing secrets to boost your engagement.
Catherine Heeg is an International Speaker and Trainer in the travel, tourism, and hospitality industry. Focusing on social media, sales and marketing, Catherine understands and speaks your language.

Client Resources
If you are looking for the latest brochure, promotion, news article or training resource from most of our clients, we have created a webpage where you can easily find the latest information.
Also, past issues of the DETM Newsletter can be found here.
Quote of the Month
"The secret of staying young is to live honestly, eat slowly, and lie about your age."
Lucille Ball