Dear Dave,
Every natural disaster that happens around the world makes us appreciate our own good fortune. These disasters that can affect thousands or millions of people may also encourage many of us to open our wallets (as we are able) to give to the charities of our choice, to alleviate the suffering of those affected. I can imagine that many of our thoughts and prayers are currently with the people of Nepal, still reeling from the devastating earthquake, aftershocks and avalanches.
In any destination (vacation or otherwise), there are people who are much less fortunate that we are. Not surprisingly, all of our clients contribute a lot to charities in their local communities in Mexico and Hawaii. Knowing this can make our mutual clients feel even better about their vacation spending, when they know that part of their vacation money is going to do some good for local people or environment. Enjoy reading about these contributions about our accounts that you may not have known about...
Happy selling!
Dave Emery
Quote of the Month
"Happiness adds and multiplies as we divide it with others." A. Nielen
Upcoming Webinars
Find links to sign up for any of these webinars
HERE.
All webinars will be only 30 minutes.
HILTON PUERTO VALLARTA
Learn more about one of Puerto Vallarta's newest all-inclusive properties - the Hilton Puerto Valalrta. We will also include information on the Krystal properties in Puerto Vallarta, Ixtapa and Acapulco.
KRYSTAL GRAND PUNTA CANCUN & KRYSTAL CANCUN properties
We will provide an overview of the new Krystal Grand Punta Cancun and the Krystal Cancun properties. Both are located in a great location at the top of the "7" in Cancun, on one of the best beaches in Cancun. They are just steps away from shopping malls, restaurants, cultural attractions and the nightclub area (Coco Bongo's and more!).
HONUA KAI RESORT & SPA (Maui)
Honua Kai is one of the top-rated luxury condo resorts in Maui, featuring spacious studio, one, two and three bedroom suites.
The property is located on the world-famous
Kaanapali North Beach
. Each suite includes a fully equipped high-end kitchen, in-suite washer & dryer, a bathroom for each bedroom
and more.
PRIVATE WEBINARS:
To request a private webinar for you or your colleagues, please email Dave Emery (
dave@daemery.com
).
Client Resources
If you are looking for the latest brochure, promotion, news article or training resource from most of our clients, we have created a webpage where you can easily find the latest information.
Also, stay updated on the latest news, announcements and FAM information by connecting to our Facebook page
HERE:
Photo Contest
What is the name of the gourmet market right on the Honua Kai property? Click
HERE
for a hint.
WINNER FROM LAST MONTH
Congratulations to Jane Maier, CWT Richert Travel, Regina, SK for winning last month's Photo Contest and gift certificate.
DETM is an acronym for David Emery Travel Marketing. We are a Vancouver-area based company providing quality travel industry representation in Canada since 2009.

El Cid Resorts - The El Cid Foundation
The E Cid Foundation is a non-profit organization committed to strengthening and improving the welfare and quality of life for all who work for the El Cid family including their families, the community and the environment in which we live.
Supporting children with cancer
A few of it's any great principles include:
| | |
| --- | --- |
| | Promote environmental education and conservation of our environment to reduce pollution and protect our natural resources. |
| | Promote, advise, and support the development of small family businesses to increase their household economies. |
Donation to the Red Cross
One of the many ways the Foundation is supported is through proceeds from in-room bottled water (10 pesos) and in-room coffee (10 pesos) which are donated to the El Cid Foundation. You can learn more about the Foundation HERE.
Donating groceries to victims of Hurricane Odile in Los Cabos
Krystal Resorts - Support local charities & turtle breeding
Krystal Resorts provides a lot of support for local charities in the communities where we have resorts. Here are a few examples.
The Hotel Krystal Vallarta supports Casa Hogar Maximo Cornejo Quiroz B.C. providing free food, and the collecting cash for help cover the costs of the group home in which they inhabit a average of 70 abandoned abandoned.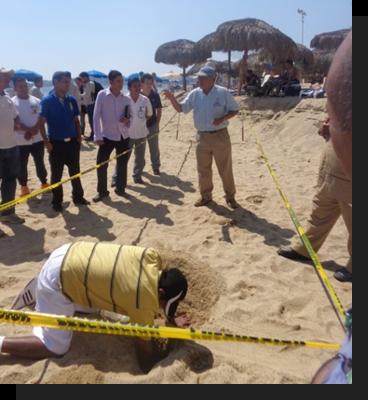 Krystal Staff prepared to help preserve the sea turtles that come to the beach, through the Training Workshop for the protection, restoration and management of populations of sea turtles in their nesting habitat.
The Olive Ridley Turtle nests right on the Krystal Puerto Vallarta beach. Last season 535 turtles were born and released safely into the ocean.
Dave Emery

Sandy Ruel

Honua Kai - Staff give back locally

Here are some photos of two of Honua Kai's big fundraising events last year.
Charity Walk - The Charity Walk takes place on all major islands throughout the State. Last year, with over 3,500 walkers, Maui County successfully raised over $939,821, providing valuable funding to over 100 Maui County non-profit organizations. Maui continues to raise more funds than any other island. State-wide, the event raised $1.9 million to help local charities.
Some of Honua Kai Resort & Spa walkers - Charity Walk, Maui
Relay for Life (American Cancer Society) - Honua Kai Resort & Spa had a tent at Relay for Life Event.
Dolly Moreno, Sales Manager and her family, along with Kristelle Marquez, Reservations.
Other charities that Honua Kai staff have participated in include:
| | |
| --- | --- |
| | Hawaiian Island Land Trust (Environmental) |
| | Women Helping Women (Helps women and children on Maui suffering from domestic violence) |
| | Habitat for Humanity (provides affordable housing) |
Catherine Heeg is an International Speaker and Trainer in the travel, tourism, and hospitality industry. Focusing on social media, sales and marketing, Catherine understands and speaks your language.