Dear Dave,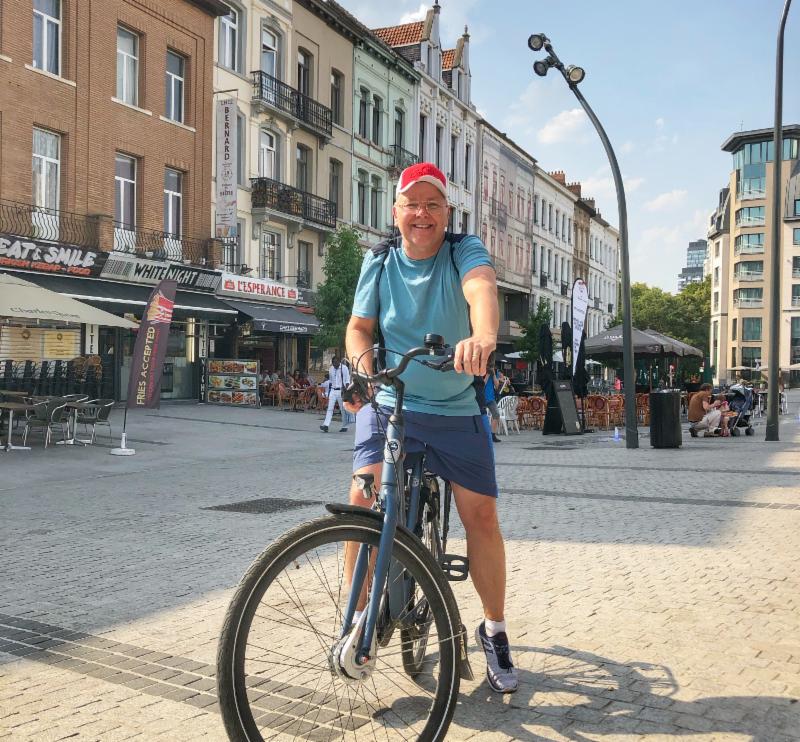 On our vacation last month we did a biking tour of Brussels for our one afternoon there. It was the hottest day on record for Brussels (40.6C, 105F) beating the previous record of 39C set the day before. (I almost didn't make it!)
15. Hobbiton, New Zealand
14. Forbidden City, Beijing
13. Floating Markets, Bangkok
12. Bruges, Belgium
11. Stonehenge, UK
10. Madam Tussauds, anywhere
9. Copacabana Beach, Rio De Janeiro
8. Plymouth Rock, Massachusetts
7. Hollywood Walk of Fame, Los Angeles
6. The view from the top of the Eiffel Tower, Paris
5. Loch Ness, Scotland
4. Mona Lisa, Paris
3. Spanish Steps, Rome
2. The Little Mermaid, Copenhagen
1. Manneken Pis, Brussels
I've always tracked the number of countries and UNESCO sites I've visited, but now I have a new goal! I've already visited 10 of these 15 "extremely disappointing" tourist attractions, but not sure I agree with the description for all of them...How many have you been to?
Happy selling those disappointing as well as the exciting destinations!
Photo Contest
How many spas does El Cid have at it's properties in Mazatlan?
Click
HERE
for a tip.
WINNER FROM LAST MONTH
Congratulations to Brandy MacDonald, of Vision Travel Solutions in Lethbridge, AB, for winning last month's Photo Contest and gift card.

El Cid Resorts - Mazatlan - NOT Disappointing
The
El Cid Resorts
in Mazatlan are definitely not disappointing for your clients looking for that perfect balance of sun, water and fun activities. The
4 resorts
definitely do offer something for everyone. If your clients are looking for:
| | |
| --- | --- |
| | some quiet (Granada or Marina Beach), |
| | some activities (Castilla Beach), |
| | some great kids and teens programs (Castilla Beach), |
| | an adults-only area (pool at El Moro), |
| | some relaxing (spas - Country Club, Marina Beach), |
| | some golfing (27-hole championship golf course), |
| | some fishing (Ares Fleet), |
| | or even some excursions (PronaTours), El Cid would be your choice. |
Mazatlan
as a destination is also never disappointing. This is especially important for those clients looking for something authentically Mexican (the
Colonial City on the Beach
) when they have already been to the other popular Mexican sun destinations.
Just a reminder that we have some great tour operator partners. WestJet is flying year round to Mazatlan with same day connections from most western airports. Sunwing is flying direct from YVR, YYZ, YUL, YEG, YYC, YEG, YQR, YXE, YOW, YYJ during the winter season.
Upcoming Online Training
Find links to sign up for any of these online training sessions
HERE.
All online training will be only 30 minutes.
EL CID RESORTS - MZT, CUN & COZ
Get a great overview of the 7 El Cid resorts on both coast of Mexico (Mazatlan, Riviera Maya & Cozumel), and learn which resorts would be perfect for your various clients. You will also be reminded of the El Cid Rewards program and any current agent promotions.
To request a private online training session for you or your colleagues, please email Dave Emery (
dave@daemery.com
).
El Cid Resorts - Rewards!
Remember both of El Cid Resort's reward "Thank you's" for all of your support!
1. REGISTER El Cid Resorts is happy to announce that they are continuing the "Bonus Points" offer for all 7 Resorts, on both coasts of Mexico! Earn generous points for each booking, that are good for lots of rewards in the catalog (iPads, gift cards, TV`s, etc.) You can find the full details of the Bonus Points offer HERE. Just report your bookings at the
El Cid Rewards Program
,
2. EMAIL: Earn a $50 Visa Gift Card for every booking of 5 nights or more at any of the 4 El Cid Resorts in Mazatlan! Check out the details HERE. (Note you must send your booking details to incentives@elcid.com.mx to get your gift card.)
Dave Emery

Do you want to avoid disappointing social ads? These
tips and tools
will help you to create stunning social ads and get noticed.
Catherine Heeg is an International Speaker and Trainer in the travel, tourism, and hospitality industry. Focusing on social media, sales and marketing, Catherine understands and speaks your language.

Quote of the Month
"Traveling - it leaves you speechless, then turns you into a storyteller."

Ibn Battuta
DETM is an acronym for David Emery Travel Marketing. We are a Vancouver-area based company providing quality travel industry representation in Canada since 2009.
Client Resources
If you are looking for the latest brochure, promotion, news article or training resource from most of our clients, we have created a webpage where you can easily find the latest information.

Also, stay updated on the latest news, announcements and FAM information by connecting to our Facebook page
HERE: