Dear Dave,
I've shared with you in the past some of my favourite podcasts (
Stuff You Should Know
) I am always both entertained and learn something interesting from the podcasts I listen to.
One that I really appreciate these days in
Terry O'Reilly's "Under the Influence"
made available by CBC. Terry is an experience Advertising guy, who is Canadian and worked both in the U.S. and Canada during his career.
Terry's episodes are always funny, very well researched and give me some very cool insights on some of our favourite brands. (He discussed long standing brands in one episode and discussed the history of The Hudson's Bay Company.)
Today I was listening to an episode on differentiating yourself called
"What a Difference a Difference Makes."
Certainly that is what we are all trying to do in the travel industry - differentiate ourselves from our competition, whether it is the agency down the block or the internet. Example: "Swtach" didn't brand itself as a better time piece as all other watches did, but as a fashion accessory (BTW Swatch = Second-Watch).
The episodes often give me ideas or insights on successful brands. (Think Tiffany's iconic blue box.) One recent episode on Loyalty Programs talked about S&H Green stamps, and the start of airline frequent flyer programs and Airmiles. A recent one on Commercial Parodies just made me laugh through the whole thing.
The bottom line is that each of us in the Travel Industry, whether Reps or Travel Agents, are constantly promoting and differentiating ourselves from our competitors in order to sell.
I hope you pick up some great marketing/selling tips and get a smile from '
Under the Influence
". Be the Tiffany's box in a sea of Amazon boxes!
Quote of the Month
"Marketing youself to a new person often involves being charismatic, clever and quick - but most jobs and most relationships are about being consistent, persistent and brave."

Seth Godin
Photo Contest
What is the name of the famous Vietnamese sandwich, which is the specialty of the central area of the country? Click
HERE
for a tip.
Click here to enter your answer.
WINNER FROM LAST MONTH
Congratulations to Karen Katelnikoff, of UNIGLOBE Carefree in Saskatoon, SK, for winning last month's Photo Contest and gift card.
Upcoming Online Training
Find links to sign up for any of these online training sessions
HERE.
All online training will be only 30 minutes.
EL CID RESORTS - MZT, CUN & COZ
Get a great overview of the 7 El Cid resorts on both coast of Mexico (Mazatlan, Riviera Maya & Cozumel), and learn which resorts would be perfect for your various clients. You will also be reminded of the El Cid Rewards program and any current agent promotions.
Get a great overview of the Realistic Asia and their package and customized tours of Vietnam, Thailand, Cambodia, Laos and Myanmar. Learn why clients have been giving Realistic Asia amazing reviews on both their package and customized tours for over 15 years now. You will also be reminded of the great selling points and highlights of their destination countries!
To request a private online training session for you or your colleagues, please email Dave Emery (
dave@daemery.com
).

El Cid Resorts - Mazatlan Golf Packages
Remember El Cid Resorts to plan your client's perfect golf vacation! Here is a great golf package that includes a lot of extras.
Your Client's Stay includes:
Seven nights hotel accommodation
Guaranteed ocean view accommodation with bathrobes
All Inclusive Elite plan (with lots of benefits!)
Stay in one and play all four El Cid Resorts restaurants and bars, including premium menu items (concessions not included)
VIP Check in
Round trip transportation: Airport-Hotel-Airport
Your Client's Play: at these 3 Challenging Golf Courses in Mazatlan:
El Cid Golf Course & Country Club (27 holes): Unlimited Green fees including shared cart and caddie.
Estrella del Mar Golf Course: Green Fees (18 holes) for one day including shared golf cart, caddie is not available, round transportation from El Cid hotel to the golf course.
La Marina Golf Course: Green Fees (18 holes) for one day including shared golf cart, caddie is not available, round transportation from El Cid hotel to the golf course.
Find more details HERE. Note that travel is for the next year (Dec 1, 2020)!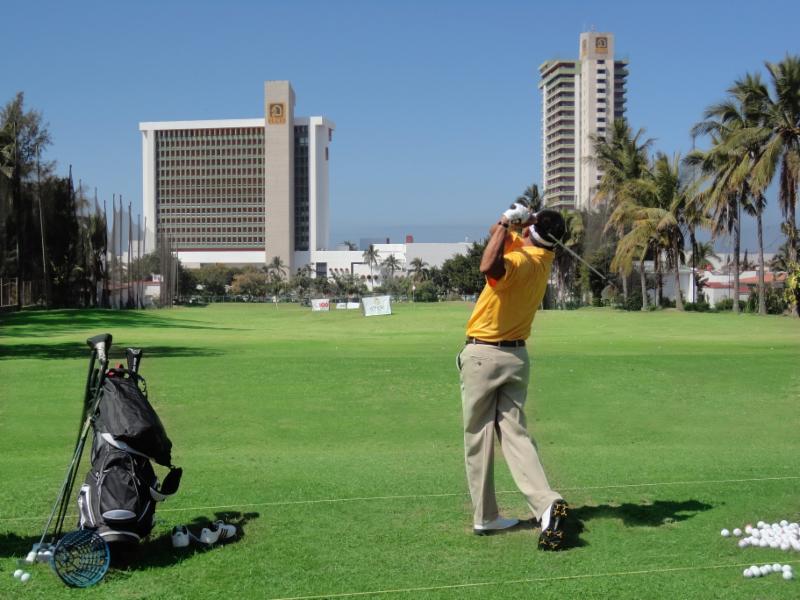 Always remember the El Cid Rewards resources:
1. REGISTER your El Cid Resort bookings, for all 7 Resorts, on both coasts of Mexico! Earn generous points for each booking, that are good for lots of rewards in the catalog (iPads, gift cards, TV`s, etc.) You can find the full details of the Bonus Points offer HERE. Just report your bookings at the
El Cid Rewards Program
,
2. EMAIL: Earn a $50 Visa Gift Card for every booking of 5 nights or more at any of the 4 El Cid Resorts in Mazatlan! Check out the details HERE. (Note you must send your booking details to incentives@elcid.com.mx to get your gift card.) Make sure to include all of the following: Guest Name(s), El Cid property name, Arrival and departure dates, Tour operator (booked with), Travel agency address/home address and phone number.
Note that bookings must be made through any Tour Operator such: Sunwing, WestJet, etc. Bookings made it through online companies such: Expedia, Travelocity, Hotels.com will not be applicable to El Cid Rewards points or the Visa Gift card promotion.
REALISTIC ASIA - Foodies Paradise
Vietnam has an immensely rich culinary culture and surprisingly beautiful food available everywhere. Of course Realistic Asia has a
Foodies Paradise tour
for your clients. Travellers will surely fall in love with Vietnamese cuisine. Like the celebrity chef Anthony Bourdain once said: "Vietnam. It grabs you and doesn't let you go. Once you love it, you love it forever."
In order to understand the flavours of Vietnam, it's essential to understand it's geography. Vietnam's shape is like an elongated S. The skinny country has China to the North, Laos and Cambodia to the West and the East Sea to the East. The food of the North is heavily influenced by China with noodles-based soups. As you move south, there is more flavuor-blending with nearby Thailand and Cambodia. While the Northern cuisine is perfect combination of all flavours, the food in Southern Vietnam is usually sweeter.
Pho
In the north, Phở (pronounced 'fuh') is one of the Vietnam most loved dishes.
In central Vietnam, Bánh Mě (influenced by French colonization) is a crusty baguette sandwich, with delicious local ingredients.
In the south, Broken rice (Cơm Tấm in Vietnamese) is a meal made from the cheaper, broken rice grains.
Click
HERE
to read more about "Eating your way through Vietnam" and more about all of these Vietnamese specialties.
Dave Emery

Sandy Ruel
How would you like to know how people really liked your last social ad? Check out this
scoring system.
Catherine Heeg is an International Speaker and Trainer in the travel, tourism, and hospitality industry. Focusing on social media, sales and marketing, Catherine understands and speaks your language.

DETM is an acronym for David Emery Travel Marketing. We are a Vancouver-area based company providing quality travel industry representation in Canada since 2009.
Client Resources
If you are looking for the latest brochure, promotion, news article or training resource from most of our clients, we have created a webpage where you can easily find the latest information.

Also, stay updated on the latest news, announcements and FAM information by connecting to our Facebook page
HERE: