El Cid Properties - At-A-Glance
Castilla Beach (Mazatlan)
Ocean front, middle of the hotel zone, AI or EP options, kids club, teens program, nightly entertainment, pool or ocean views
Granada (Mazatlan)
Across from the Castilla Beach, next to the El Cid Country Club and 27-hole championship golf course, AI or EP options, exchange privileges at the Castilla Beach, quiet pool and property, rooms with kitchenettes
El Moro Beach (Mazatlan)
Ocean front, middle of the hotel zone, AI or EP options, 27 floors, balconies. Adjacent to the Castilla Beach.
Marina Beach (Mazatlan)
Ocean front, north end of the hotel zone, about a mile north of the other 3 El Cid resorts, all suites, AI or EP options, built around a marina, quiet beach area, deep sea fishing fleet, free shuttle to the other El Cid properties and country club
Hotel Marina El Cid Spa & Beach Resort (Riviera Maya)
In the town of Puerto Morales, good beach, marina, family rooms, family suites, honeymoon suites.

Hotel Marina El Cid & Ventus at Marina El Cid MAP
Ventus at Marina El Cid (Riviera Maya)
In the town of Puerto Morales, and adjacent to and full exchange with the Hotel Marina El Cid. Family rooms, 1, 2 and 3 bedroom suites. (Opened Nov 2017)
El Cid La Ceiba Beach (Cozumel)
On the Island of Cozumel, only 60 rooms, PADI dive shop on site, deluxe rooms & suites
Links to El Cid Websites: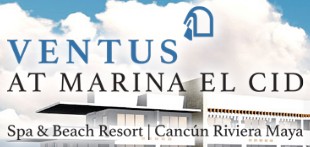 Mazatlan - https://www.elcid.com/mazatlan/castilla-beach/dining/resort-dining-mazatlan
Riviera Maya - https://www.elcid.com/riviera-maya/hotel-marina-beach/dining/resort-dining-riviera-maya
Cozumel - https://www.elcid.com/cozumel/la-ceiba-beach/dining/resort-dining-cozumel
El Cid Agent summary 2 page (Nov 3018)
Fact Sheets (Dec 2015)
Hotel Marina El Cid Spa & Beach Resort (Riviera Maya)
El Cid La Ceiba Beach (Cozumel)
Ventus at Marina El Cid Spa & Beach Resorts (Riviera Maya) (Nov 2017)
El Cid Quad fold brochures (Feb 2015)
Hotel Marina El Cid (Riviera Maya)

Fact Sheets/Brochures:
Videos: (also on the El Cid Agent website)
EL CID MAZATLAN
El Cid Castilla Beach (1:18 min)
El Cid Marina Beach (2:03 min)
EL CID RIVIERA MAYA
Hotel Marina El Cid Spa & Beach Resort (1:46 min)
Ventus at Marina El Cid Spa & Beach Resort (1:30 min)
Recent News:
Hotel Marina El Cid Spa & Beach Resort won a 2014 Travelers' Choice Award:

Top Hotels for Families - Mexico (Feb 2014)
The Travel Guys in Mazatlan (Feb 2014)
Canadian Tour Operators
Other Resources:
Pronatours - The official tour operator of El Cid
This site was last updated 04/04/19